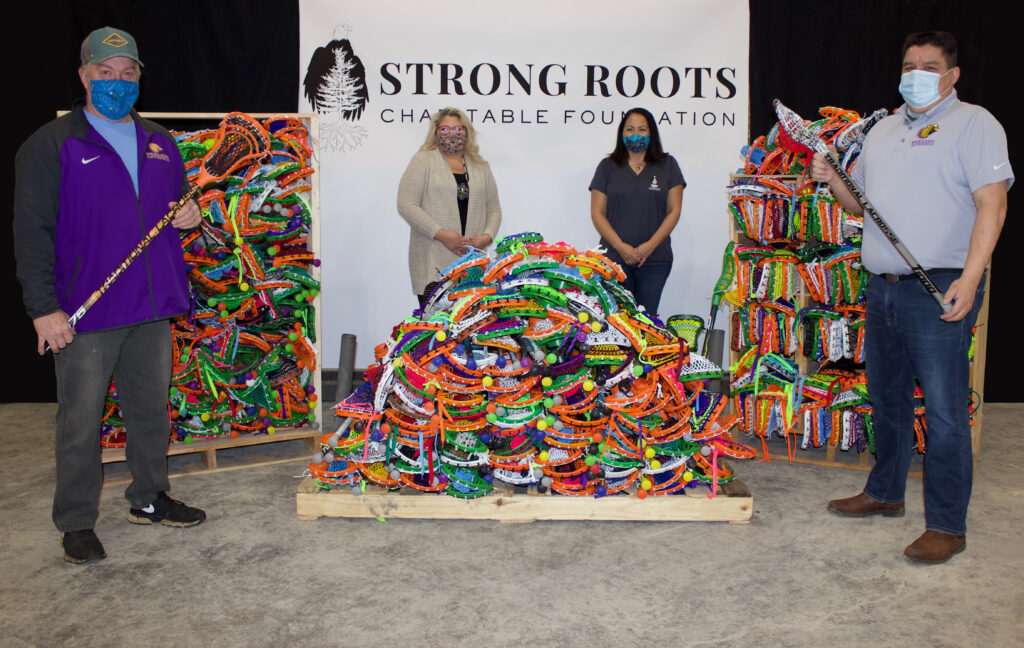 Strong Roots Charitable Foundation Donates 700 Lacrosse Sticks to
Iroquois Nationals Development Program
AKWESASNE MOHAWK TERRITORY — The Strong Roots Charitable Foundation is proud to announce it is helping build a strong foundation and future for a new initiative of the Iroquois Nationals Lacrosse Program. Seven hundred (700) lacrosse sticks were donated to support the Iroquois National's efforts to share and grow the love for lacrosse through youth development clinics that will be hosted in Haudenosaunee communities.
"The Strong Roots Charitable Foundation was created with the purpose of helping our youth to grow and have strong futures by supporting healthy and safe environments in Akwesasne and other Haudenosaunee communities. We are proud that the donation to the Iroquois Nationals will help our youth to develop on many levels, as lacrosse players and as future leaders," stated Strong Roots Foundation Board President Carey Terrance.
The donation was facilitated by Mark Martin; who is the Treasurer and the Chief of Officials, Compliance and Governance for the Iroquois Nationals Board of Directors. Martin approached Strong Roots and shared efforts to establish a development program for Haudenosaunee youth. The vision is to expand the Iroquois Nationals Lacrosse Program at the youth level and instill within young players the appropriate understanding of what the game represents to the Haudenosaunee. At the same time, it will help grow the future base of players able to compete at the international level, as they make a run for Olympic Gold in 2028.
Martin was joined in receiving the donation by Mark Burnam, Head Coach of the Iroquois National's U21 Team that will be competing in the 2022 World Men's Lacrosse U21 World Championship being held in Limerick, Ireland. Burnam shared, "Compared to the structured lacrosse programs of the United States and Canada, the Haudenosaunee have a fraction of youth lacrosse players, but some of the top world-class athletes playing the Creator's Game. Some of our youth however, come from families who are struggling financially and often attend lacrosse clinics without any equipment. This donation will help provide a quality lacrosse stick to Haudenosaunee youth who want to learn teachings associated with the gift of lacrosse. On behalf of the Iroquois Nationals, thank you to Strong Roots for the donation and helping grow an appreciation for what lacrosse truly represents."
The Strong Roots Foundation is proud to have enlisted the help of ten (10) Akwesasne lacrosse stick stringers in making the donation possible, including: Jim Barnes, Rowisonkies Barnes, Travis Phillips, Turner Thomas, Towi Oakes, Taylor Smoke, Raymond Rourke Jr., Louie Thompson, Treyton Sunday, and Tray Square. The stringers devoted upwards of six (6) months stringing the lacrosse stick heads — ensuring that each one will provide a young Haudenosaunee lacrosse player with a love and appreciation for the game.