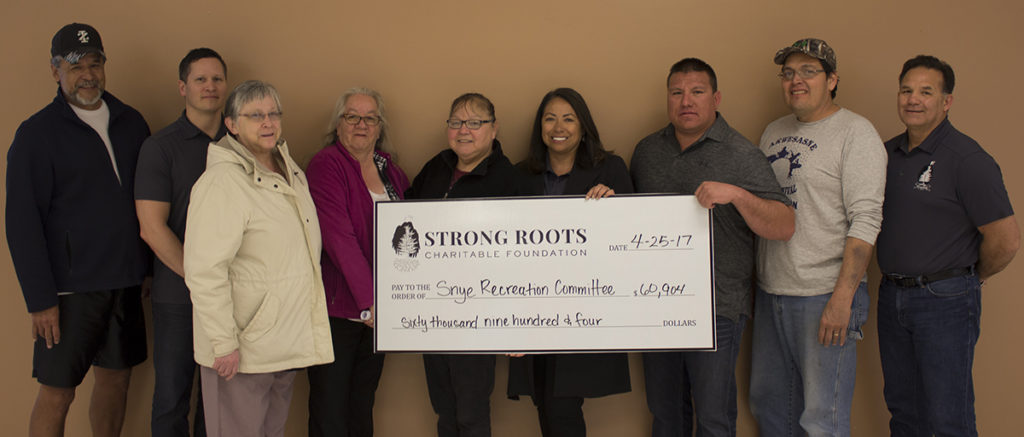 Board Members Dianna Tarbell, CAA Owner Carey Terrance, & Lewis Mitchell
Strong Roots Charitable Foundation and CAA Management Combine to Present $100,000 in Funding to Snye Recreation Committee
AKWESASNE – A year ago, Strong Roots Charitable Foundation issued a Request for Proposals for any community group interested in the construction of an outdoor sports box. It was the Snye Recreation Committee who submitted the best proposal and on Tuesday April 25th, they came one step closer to making the sports box a reality.
A presentation was held April 25th at the Snye Rec Building where Strong Roots Board Members presented a check for $60,904 to members of the Snye Recreation Committee. This money was collected with the generosity of local businesses, vendors who do business on our territory, and the avid golfers who made the Strong Roots 2nd Annual golf Tournament a success.
In addition, Carey Terrance, Owner of CAA Management, donated $40,033.63 to support this project's completion. "I'm excited to see this box become an important piece in the programming offered by the Snye Rec Committee and can't wait to see the kids enjoy it." CAA Management will be donating the site work and board installation for the venue.
The Strong Roots Charitable Foundation was founded by Board Member Carey Terrance for the purpose of developing community-wide initiatives that impact the quality of life for Akwesasne Elders and Youth. CAA Management the foundation with an endowment and has sought out other local Native and non-Native businesses to assist in the raising funds that will invest in community-based capital projects. In 2015, Strong Roots erected the roof over Travis Solomon Memorial Lacrosse Box located in Generations Park. Last year, Carey purchased the hockey boards from the Syracuse Crunch Hockey Team in the AHL and it will be those boards that will be installed at the Snye Rec Center.
"We were thrilled that the Snye Recreation Committee submitted such a strong proposal!" stated Emily Lauzon, Strong Roots Board Member. "Their plans are to make the box a vital link in the overall development of the community with activities including not just hockey and lacrosse but also broomball, boot hockey, Learn to Skate program, Family Skate activities, pow wow dance classes, and outdoor circuit training."
Chief Troy Thompson Board Member added "Strong Roots will fund it and Snye Rec Committee will operate and maintain it. These are the kind of partnerships that we are looking to develop."
Strong Roots actively seeks out sponsorships from off-reserve companies who have long benefited from doing business with Akwesasne. "Out of the 50 sponsorships we received, 29 of them were from off the territory of Akwesasne" said Dianna Tarbell Board Member. "Many stated that they were just waiting to be asked and they were enthusiastic in their support." Lewis Mitchell, Board Member, added "Our local businesses are continually tapped for every fundraiser throughout the year and they are very generous; however; I'm sure they would appreciate others contributing as well."
The Strong Roots Charitable Foundation sincerely appreciates the overwhelming support received from sponsors to make initiatives such as this possible. The 3rd Annual Strong Roots Golf Tournament is scheduled for July 14, 2017. For more information, please contact April Lauzon at (518)358-6072 [email protected]